JRD2012 – Pluridisciplinary (France)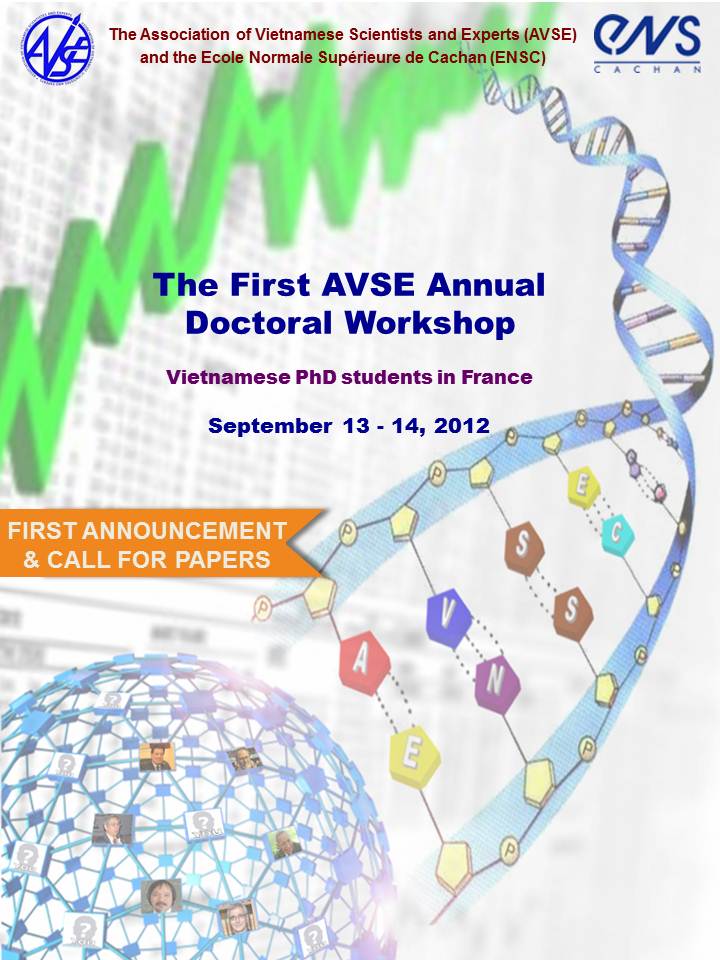 CFP: http://www.a-vse.org/events/index.php/call-for-papers
The Association of Vietnamese Scientists and Experts (AVSE) and the Ecole normale supérieure de Cachan (ENS Cachan) join forces to organize the first AVSE annual doctoral workshop. This workshop will be organized on Thursday and Friday the 13th-14th of September 2012, at the ENS Cachan. This is the first-ever event in honor of all Vietnamese Ph.D. students from all disciplines, who currently pursue a doctoral program in France.
Open to all Vietnamese Ph.D. students as well as all interested students, the AVSE doctoral workshop aims to give the participants the opportunity to:
meet each other,

exchange research ideas and experiences,

present their ongoing research projects and/or research papers,

get comments from senior researchers and fellow students.
As part of the program, a social networking gala will bring all the participants closer together.
TOPICS
Doctoral students working on all areas of science are welcome and cordially invited to submit their Ph.D. research proposal or the abstract of their complete research paper for a presentation (oral or poster) at the workshop. Examples of several areas include:
Applied sciences: civil engineering, information and communication technologies, biology, electrical engineering, nuclear energy,…

Natural sciences: mathematics, physics, chemistry,…

Social and human sciences: economics, management (business, finance, accounting, marketing), letters, civilizations, history, medicine, psychology,…
Two special sessions will be devoted to :
Sharing multidisciplinary research experiences from well-known scientists and experts

Sharing research experiences in doctoral research from young postdoctoral fellows
IMPORTANT DATES
Abstract submission deadline: August 31, 2012
Announcement of workshop program: September 5, 2012
Registration deadline: September 10, 2012
Workshop dates: Thursday (13th) and Friday (14) of September 2012
ORGANIZATION
General Chair
LAI Ngoc Diep, ENS Cachan & AVSE
Organizing Committee
BUI Nguyen Hoang, SOFINEL/AREVA & AVSE
DO Mai Trang, ENS Cachan
LAI Ngoc Diep, ENS Cachan & AVSE
LE Thanh Duc, University of Paris 1
NGO Dac Tuan, University of Paris Nord & AVSE
NGUYEN Duc Khuong, ISC Paris School of Management & AVSE
NGUYEN Hoai Tuong, INSERM U946
NGUYEN Trung Lap, Ecole Polytechnique & AVSE
VU Ngoc Anh, Officience & AVSE
Secretary
NGUYEN Thi Thanh Ngan (Scientific Management)
VO Dinh Tri (General and Finance Affairs)
(Source)